I have been to Hoi An for so many times, but this place never fails to surprise me. I'm proud to say that up to now, I know little detail of Hoi An and as its beautiful famous destinations. If you're planning to have a peaceful vacation in Hoi An, this post will help you prepare for it.
First and foremost: Means of transportation. Here in Hoi An, motorbike rent vary from 100k to 120k ($4.4 – $5), and bike rent is around 50k ($2).
My Hoi An has beautiful pedestrian streets, so you can simply discover its attraction on foot. It only takes you 2 – 3 hour walking to discover everything inside the town. If you want to go to the beach or other destinations, you may consider renting a motorbike.
DESTINATION INSIDE HOI AN
Chinese Assembly Halls:
Description: Assembly Halls were constructed by Chinese immigrant with the aim of socializing and protecting Chinese traditions. Up to now, there are 5 Halls left, all of them are impressive and traditionally beautiful.
Location: All located on Tran Phu street.
Ticket/fee: Some places require tickets, some do not.
My advice:
If you want to visit all 5 Halls, you could by the entrance ticket to Hoi An, but most tourists don't buy it. I personally recommend you not to buy it.
Japanese covered bridge
Description: Japanese covered bridge is a symbol of Hoi An. It exhibits both Vietnamese and Japanese architecture (it has significant Vietnamese features, but it was actually built by Japanese).  Local people tend to call it "Temple bridge" because there is a small hidden temple inside.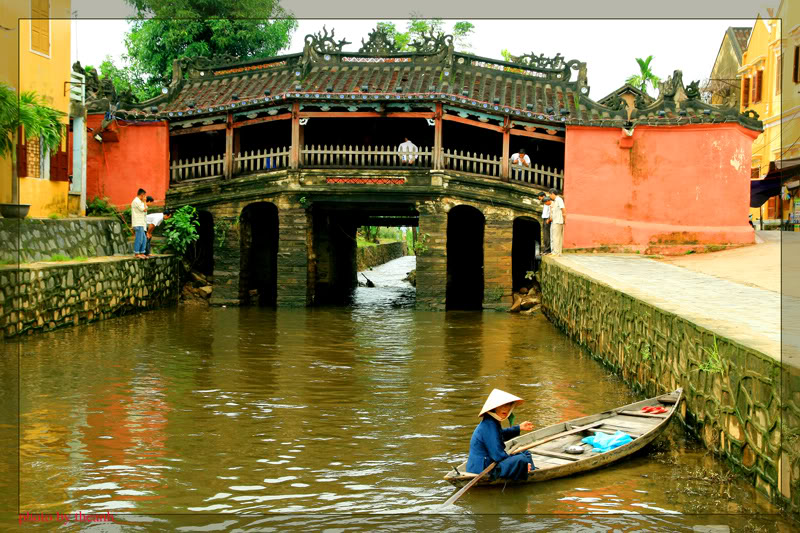 Location: At the end of Tran Phu street.
Ticket/fee: None
My advice:
-The bridge is really short. Don't hope for a significantly beautiful or romantic walk!
-Across the bridge is an antique pedestrian street. It is peaceful and covered with beautiful pictures and paintings. It is a favorable place to take picture/selfie!
The old houses:
Description: The old houses have become an iconic feature of Hoi An. These houses do not only have historical value but they're also a long-lasting symbol of traditional Vietnamese architecture. Some of them are Tan Ky, Phung Hung, Duc An…
Location:  Duc An house: Tran Phu street
Tan Ki house: Nguyen Thai Hoc street, near Tran Phu.
Phung Hung: Nguyen Thi Minh Khai
Ticket/fee: Most of them collect tickets.
Art galleries and museum
Description: There are plenty of art galleries inside Hoi An. It depicts traditional villages, sightseeing, ethnic costume and amazing moment of human in Hoi An. If you're interested in culture, there are lots of museums you can visit on a rainy day in Hoi An.
Location: There is no detail address for it. You can easily find a lot of nice small galleries on pedestrian streets.
Museum of Trade Ceramics: On Tran Phu street
Museum of Folklore: On Bach Dang street
Museum of History and Culture: On Nguyen Hue street
Ticket/fee: You need to buy tickets for museum.
DESTINATION OUTSIDE HOI AN
The Beaches:
Description: Hoi An beaches are peaceful and lengthy. The 2 well-known beaches are Cua Dai and An Bang beach, which is not far from the ancient town.
Location: Cua Dai beach and An Bang beach respectively locate 5 kilometers and 7 kilometers from Hoi An Ancient town.
Transportation: It's up to you. You can either walk or rent a bike/motorbike.
Ticket/fee: Parking fee is 10.000.
My advice:
-Renting a sun lounger is from 30.000 to 50.000. If you buy a drink or dine there, it's free of charge.
-Everything here (souvenirs, drinks) is more expensive than elsewhere (of course).
-Seafood  is plenty and delicious, particularly on Cua Dai Beach, and the price is quite affordable.
-You should capture some beautiful moments at dawn or on sunset.
Thanh Ha Pottery village
Description: Thanh Ha village has everything about pottery. Purely watching the pottery displays is kinda boring, so I suggest you should walk into the narrow lanes behind the tourist park and observe how it is made by local people. If you've never watched how people make a pottery, it's going to be a cool experience.
Address: 3 km far from Hoi An. I recommend you to hire a bike/motorbike.
Ticket/fee: Entrance ticket is round 20.000d/person.
My advice:
-There is a free parking place inside the village, so don't park your bike/motorbike outside, it will cost you 10.000d.
– If you want to make your own pottery, local people will help you, but you'll need to pay extra 30.000d.
Silk village
Description: Hoi An silk village actually belongs to Hoi An Silk Village Resort & Spa. It's a nice place to see around the silk products of Vietnam. A local guide will show you around the place, tell you about the traditional silk-making process, lead you to the showroom of silk material, tailored suit/dress… and a museum of Vietnamese traditional costume.
Location: 2 km far from Hoi An
Ticket/fee: Around 100.000d for a 45-minute tour.
My advice:
-This place is suitable for those who want to buy some Vietnamese luxurious textiles or handmade suit/dress, since the price here is much higher than most silk shops in Hoi An.
-The tour includes pick-up and drop-off service, mulberry drink, water and a meal in the restaurant. Regional dishes are also served, but with an expensive price.
-You can try Hoi An local food outside this place, with super affordable price. Let's see my list of irresistible Hoi An local food here!